Are you a buyer wanting to engage the market?
Are you a supplier wanting to engage with major projects?
Follow this link to sign up.
Sign up
Regional Content Survey
Help us collect information and analyse a region's capacity, capability, and appetite to partner with major projects.
Take Survey
EconomX – a strategy-based platform for regional content
We believe that great regional content practices, executed by smart and forward thinking projects, can drive commercial benefits and change communities from the inside out as a force for positive economic and social change.
EconomX is an intelligent economic development and Supply Chain Management (SCM) platform that easily and efficiently connects businesses across multiple industries to grow economies development by blending local content, procurement optimisation, and economic intelligence.
EconomX provides procurement teams with the tools to competitively promote their business and projects, while managing supplier relationships and making insightful decisions with powerful data analytics.
The platform helps projects align with regional content best-practice while complying with Australian Industry Participation Plans and the Strong and Sustainable Resource Communities Act 2017.
EconomX is backed by experts in regional content, transformational technology, major projects, client-side procurement, and regional Australia.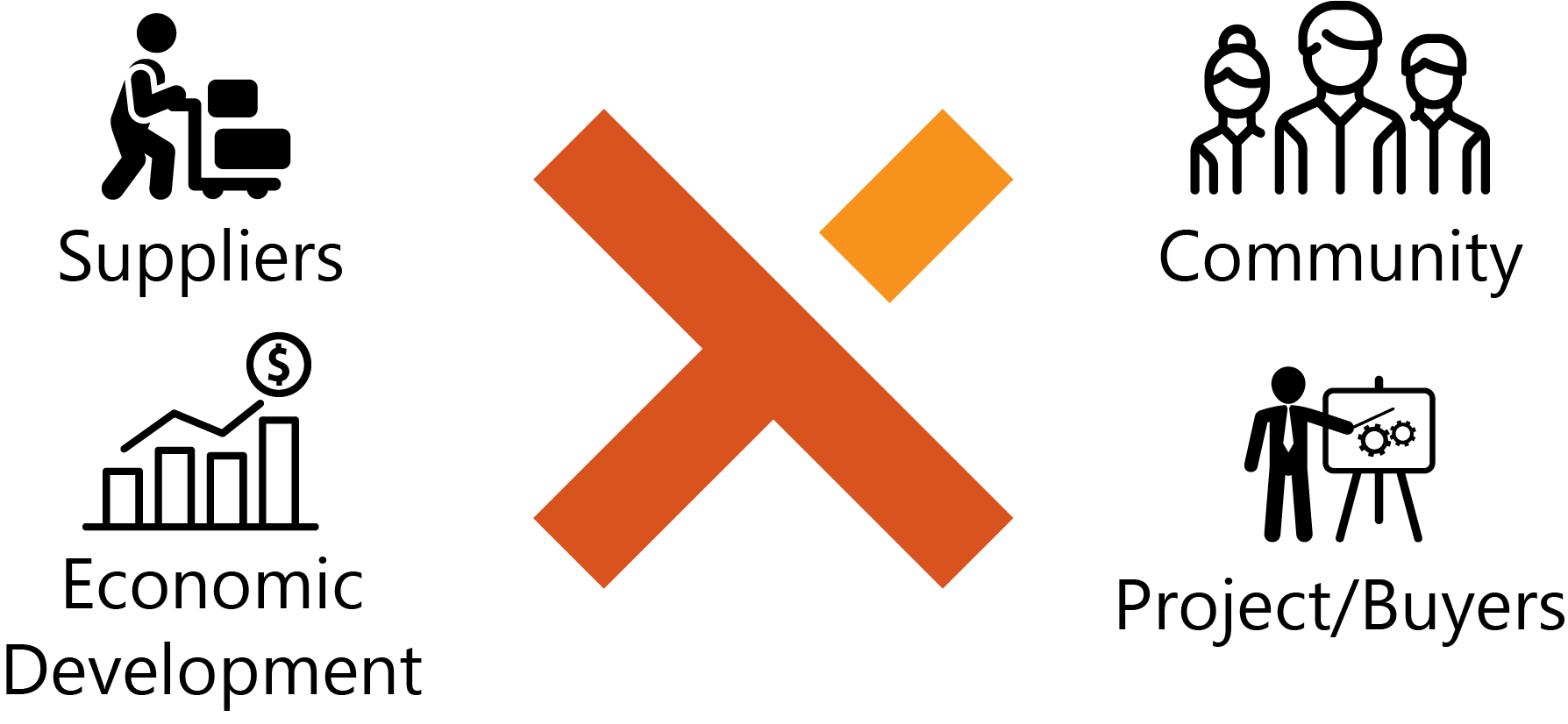 The EconomX mission
The core of our mission is to make it easier for major projects and contractors to engage with regional suppliers, identifying cost savings, efficiencies and innovation in the process.
Our platform helps regional businesses to engage directly with the major project buyers who matter, while also enabling economic development organisations to deliver significant value for their members and communities, building a more competitive and attractive region.
The reality of regional content
Regional Content is a shared responsibility and everyone has a role to play.
Ultimately, sustainable regional economic growth will not be achievable until there are better ways for local businesses and regional projects to connect and exchange information.
Buyers should be searching for savvier ways to get a greater amount of the opportunities available to their project region. In turn, local businesses must prove they have the capability and capacity to deliver value, efficiency and reliability.
EconomX is designed to work in partnership with stakeholders to facilitate commercial, economic and social benefits for regional supply chains, the Major Projects they host and the communities they sustain.
We take a whole-of-community approach to regional content.
EconomX is passionate about making a difference
Add your voice to our research by completing our regional content surveys.
Major Projects and Contractors
• Executing detailed market research
• Building targeted supplier strategies
• AIP Plan and Coordinator-General compliance
• Testing market capability
• Supplier engagement
• Cost, productivity and safety gains
• Builds Social License to Operate
Regional Businesses
• Free for you to register and respond
• Simple platform, easy to answer market enquiries
• No paperwork, completely online
• One profile works for all opportunities
• No charge to update your profile
•
•